Gotta Earn It
This statement is at the core of my belief system. I truly believe a person needs to earn something or they can't truly value it. Instant gratification never provides lasting pleasure. And by that I'm talking about the difference between obtaining something for free that you did not work for, versus working hard to obtain something. Just look at the statistics of lottery winners, most of them lose everything in a very short period of time.
My husband, Lonnie, and I are self-made people. Everything we have, we earned through hard work. We met at the age of 23 and moved out here from the Midwest the following year. Lonnie was in the Navy, and aside from some personal items, the only things we owned were clothing, some silverware, our bed, and a cooler. It's funny to think about now, but we used to take turns sitting on the cooler since it doubled as our chair. Believe it or not, we still own it to this day!  We earned EVERYTHING that we have today by working as a team and without help from our families.
I grew up in a middle-class neighborhood in Davenport, Iowa, and was raised by my Grandparents. My Grandfather lost his eye sight when I was 10 and was forced to go on disability, and my Grandmother stayed at home raising me. I found out later that they got by on under $14,000 a year, and I only discovered that because I was applying for financial aid for college and needed their income to do so. But I wasn't aware of it because they gave me things money couldn't buy like 3 square home cooked meals every single day. That combined with making things together with your own two hands, along with the sense of accomplishment that accompanies it.
Value of Living within a Budget
I bring up our family income because that's where I first learned the value of living within a budget, even though I was unaware of it at the time. I was already earning my own money by about 7 or 8 by pulling weeds, raking leaves, and shoveling snow for the neighbors. But I think that was the start of a strong work ethic and it's relationship to money that comes with earning it. I had a savings account from as early on as I can remember with the credit union where my Grandpa worked. I can remember being taught how to enter the money I deposited from my little jobs into the register.
Even though my Grandparents did not have any formal education, they were both self-educated. Books on tape from the Commission of the Blind were always playing in our house, as well as a healthy mix of classical, jazz, country, and blue grass music. And if the TV was on, it would be tuned to KPBS as it was free as well as educational. So I'm the first person in my family to earn a college degree, and I did it 100% on my own, navigating through all the financial paperwork that goes along with it. Other than a small loan for one semester, I managed to use grants that I didn't have to repay, for everything else.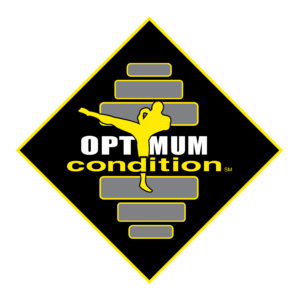 I was always fascinated with small business even as a young child, reading magazines on it as a teenager. So it wasn't surprising that in my senior year of college I started working on a business plan to open a mobile personal training company. I maximized Small Business Administration programs, and got free legal and marketing assistance through them. Then after 10 years as a mobile business, I opened the Optimum Condition Corrective Exercise and Performance Center in El Cajon, and the rest is history. And I did it without taking on investors or any big loans.
I am a huge proponent of small business, entrepreneurship and education. And that education includes self-education, not just the formal type. I learned that ambition, self-belief, and determination where get you through most things in life. And throughout it, I've always tried to live my own life to the optimum!
Melissa
OptimumCondition.com
(619) 252-4993
Empowering people through fitness, education, and coaching